Using the fleece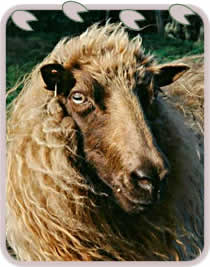 The coats can be carded and softly spun together to make Lopi-style wool, or finer two-ply wool of various weights. Or you can separate the two coats by hand, or with a hackle or Viking combs, to use alone or blend with other fibres. You can spin the tog into warp or rug yarn, or use it for embroidery. And you can spin the soft thel into a baby-soft wool or combine it with other fibres.
Felting
The fleece felts easily and quickly. Boots, mittens and garments are often felted in Iceland to produce beautiful, durable products. When you wash Icelandic fleece you should take care to handle it very gently. Never agitate or wring it because of the ease of felting. Unless the fleece is very dirty, a gentle wash / rinse / and rinse again is adequate.
A unique breed
Icelandic sheep are a pure, unique breed, protected by isolation for centuries. The fleece is unlike any other, anywhere.